Best Rate Guarantee
Aressana Spa Hotel & Suites
The Aressana Spa Hotel and Suites in the town of Fira, Santorini, provides guests with fairytale-like vacations from the moment they step through the design hotel's entrance.
Emulating the serenity of Cyclades life coupled with the exciting buzz of Fira, Santorini, guests are welcomed like old friends with heartfelt sincerity.
One of the most genuine Santorinian hotels in Fira where the senses are gently provoked reflecting the inextricable beauty of Fira and Santorini, a strong emphasis is placed on enveloping all who enter in absolute luxury and beauty.
Enjoy An Authentic Santorini Experience
Where body meets soul
Spa & Wellness
A luxurious holistic refuge from modern day life.
About
Ifestioni Restaurant
Dining transcends the ordinary with cuisine that defies expectations.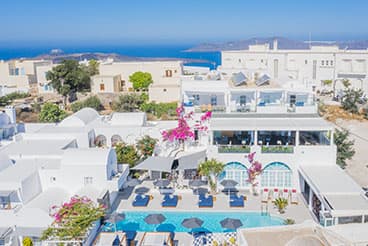 Authentic Santorini Experience
HOSPITALITY
A place where luxury and feeling at home interweave to create a new hospitality concept.