Mornings of Greek Flavor
Mornings of Greek flavor
Awakening to the sight of flowers, fresh fruits and the heady aroma of freshly ground spices and coffee signifies breakfast at the Aressana.
The breakfast at Aressana hotel is a onetime experience for the senses, offering unique fresh homemade tastes, for guests wishing to discover the original and fresh delicacies of local Santorinian cuisine.
Guests are invited to welcome the morning with all that their heart desires and the Greek, purely Santorinian Breakfast Buffet provides the perfect nourishing start for the day.
The opulent homemade breakfast buffet is served between 07:30 – 11:00 AM.
Enjoy breakfast in the comfort of your bedroom. Additional charges and room service apply.
Discover an authentic Santorini experience in a luxurious setting
Where body meets soul
Spa & Wellness
A luxurious holistic refuge from modern day life.
About
Ifestioni Restaurant
Dining transcends the ordinary with cuisine that defies expectations.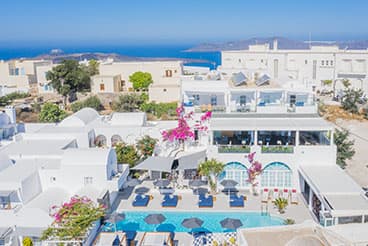 Authentic Santorini Experience
HOSPITALITY
A place where luxury and feeling at home interweave to create a new hospitality concept.