Lobby & Lounge
A place to Lounge.
Providing the perfect location for pre-dinner drinks, the Lobby Bar's discrete ambience is further infused with unique design details such as the unusual fireplace with a Kipris mural sculpture of a silvery shoal of fish on the black chimneybreast.
Accompanied by carefully chosen chilled music notes creating the ideal atmosphere for socializing, guests are invited to enjoy sumptuous cocktails served by the experienced staff, while contemplating the most amazing setting.
Featuring a large flat screen TV and sumptuous furnishings and textiles, its understated feel of luxury is welcoming in the extreme, while guests are invited to enjoy sumptuous cocktails and homemade liqueurs.
Discover an authentic Santorini experience in a luxurious setting
Where body meets soul
Spa & Wellness
A luxurious holistic refuge from modern day life.
About
Ifestioni Restaurant
Dining transcends the ordinary with cuisine that defies expectations.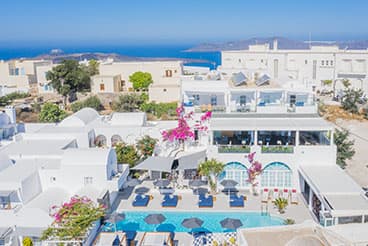 Authentic Santorini Experience
HOSPITALITY
A place where luxury and feeling at home interweave to create a new hospitality concept.