Pool & Lounge
Elegant Street Food
Lounge around, or sit by the Aressana's expansive, freshwater pool and let your mood shift towards the evening mode with our refreshing signature cocktails and street food experience. Indulge in tactile delights while pool lounging or in the comfort of your very own pool cabana. Don't miss out on the chance to enjoy such simple pleasures as jumping in the pool enjoying a delicious meal in our Ifestioni restaurant by the terrace, and letting the moonlight find you still in your swimsuit.
Discover an authentic Santorini experience in a luxurious setting
Where body meets soul
Spa & Wellness
A luxurious holistic refuge from modern day life.
About
Ifestioni Restaurant
Dining transcends the ordinary with cuisine that defies expectations.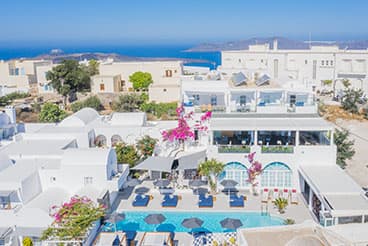 Authentic Santorini Experience
HOSPITALITY
A place where luxury and feeling at home interweave to create a new hospitality concept.