Aressana Pool & Gazebos
The ideal place to relax
One of the center pieces of the Aressana Spa Hotel & Suites in Santorini, the perfectly proportioned fresh-water swimming pool, is located on the hotel's lower level. Running water cascades into the luminous waters constantly refreshing its calm countenance.
Bordered by mosaic and stone tiles evocative of volcanic lava, it is in perfect keeping with the geological essence of Santorini Island and all that it signifies. Installations for hydro massage and chromatotherapy provide a further sense of calm and wellbeing.
Surrounded by romantic bougainvillea, loungers and curtained divans that flow with the gentle island breeze, the swimming pool provided the perfect place to relax and sunbathe during the day and when lit at night, to gaze upon its waters.
Discover an authentic Santorini experience in a luxurious setting
Where body meets soul
Spa & Wellness
A luxurious holistic refuge from modern day life.
About
Ifestioni Restaurant
Dining transcends the ordinary with cuisine that defies expectations.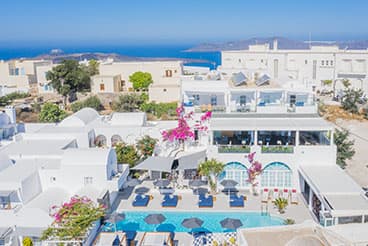 Authentic Santorini Experience
HOSPITALITY
A place where luxury and feeling at home interweave to create a new hospitality concept.