Spa & Wellness
A luxurious holistic refuge from modern day life.
Whether you're a self-certified spa guru, or simply in need of a rejuvenation holiday, the spa of Aressana Spa Hotel & Suites offers a wide variety of options to satisfy every inch of your body and soul. From pampering wraps, facials, to intensive detox programs, you'll be sure to find something that suits you from the top of your head to the tips of your toes.
The property takes wellness to a whole other level with its distinguished by unfailingly sumptuous design touches, tailor made therapies and discrete and knowledgeable therapists. Featuring the most luxurious design in Santorini and state of the art hydro facilities, feelings of inner harmony and timelessness soon cocoon all guests.
The Tefsion Kallos Spa is the idyllic place for a deep immersion experience where you can de-clutter the mind as well as gently cleanse the body with revitalizing food and gentle exercise. The spa premises offer 2 private cabins, from which one can be used for couple's treatments and the other is for single use. The couples' spa packages of Tefsion Kallos Spa aim at rebalancing and soothing the mind, body and soul.
Relax and succumb to the spiritual wellness and harmonious nature of this most exclusive of spas where trained therapists are sure to awaken your senses and provide for your ultimate wellbeing. Enter the secluded relaxation Lounge Area with the interior hot tub, thermal relaxing beds and the steam room. Just lay back and relax!
The healing though does not stop at the spa. Go out and just lie by the pool and soak up the splendor of it all. Part of the draw is the location itself: the Greek island of Santorini.
Tefsion Kallos Spa invites you for a relaxing and rejuvenating Experience from 09:00 – 21:00.
Fitness Center
Where body meets soul : For guests' convenience, the Aressana's fitness centre offers its guests fitness facilities in Fira which means that they can stay fit and trim whilst on vacation.
Guests have access to the gym featuring cardio vascular equipment, strength equipment and stretching areas in a space. The fitness centre is equipped with:
2 Treadmills
2 Elliptical trainers
1 Multi-way Technogym trainer
Light Weights
Discover an authentic Santorini experience in a luxurious setting
Where body meets soul
Spa & Wellness
A luxurious holistic refuge from modern day life.
About
Ifestioni Restaurant
Dining transcends the ordinary with cuisine that defies expectations.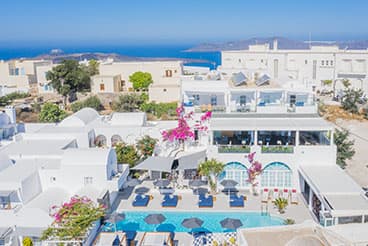 Authentic Santorini Experience
HOSPITALITY
A place where luxury and feeling at home interweave to create a new hospitality concept.