When a supreme summer holiday in Santorini is in your plans for summer 2020, you can definitely say that "It's a sweet, sweet life!". And, if these plans include a stay in one of the exquisite suites of Aressana Spa Hotel & Suites, then you can simply say that "It's a sweet, suite life!" If you haven't checked out the Aressana Suites yet, now is the right time to do so! This is the SuiteLife Special!
Three separate suite types, three luxurious accommodation proposals sure to cater to your every need and transform your Santorini holiday into an indulging SuiteLife stay; let's begin the SuiteLife Special with the stately Junior Suite with Sharing pool. Located at the Garden level of Aressana Spa Hotel & Suites, this is the perfect suite for a family break or a real home away from home experience, where endless poolside moments await.
Honeymooners now and couples in love find the Honeymoon Sky Suite of Aressana befitting of their most romantic dreams, as this chic suite boasts a uniquely amazing feature; an open roof above their bed for endless nights of watching the stars embraced in each other's arms! As for the ultimate holiday indulgence, the choice is pretty obvious; the exquisite top-floor Sea View Private Hot Tub Suites are the ultimate summer pleasure! An exclusive suite immersed in peacefulness and opening up to panoramic sea views, with a private outdoor maxi-Private Hot Tub for intimate moments of relaxation; that's the Suite Life Special!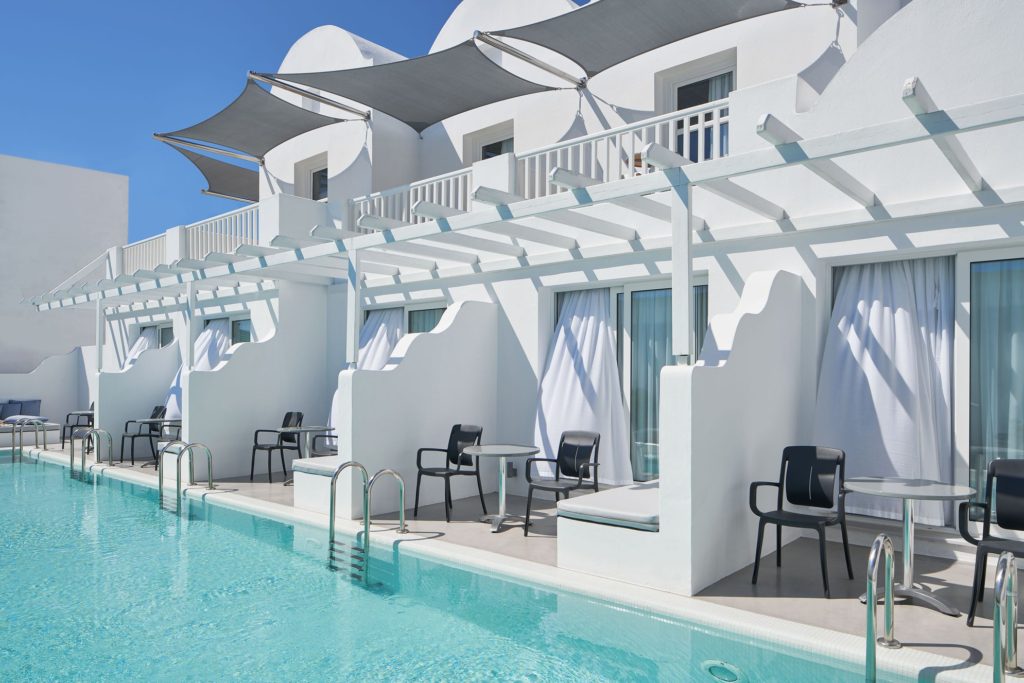 Explore our remarkable Suite choices and select the Aressana Spa Hotel & Suites accommodation that best fits your needs and wants for an unforgettable summer holiday in Santorini! Our SuiteLife is amazing, and we can't wait to share it with you! And don't forget, join our Loyalty Club for exclusive perks and privileges and book with discounted special rates!
Click www.aressana.gr/accommodation for all the full details on the SuiteLife Special or https://aressana.reserve-online.net/ to book direct now!