Best Rate Guarantee
Luxury weddings in Santorini
Romantic elegant weddings in Santorini have been a specialty at the Aressana Hotel for many years.
As one of the most beautiful honeymoon destinations in the world, events in Santorini in the southern Cyclades emulate a feeling of timelessness where the dramatic beauty of Santorini Island takes centre stage.
Weddings in Santorini are therefore the ultimate way of celebrating life's memorable milestones.
Wedding & events in Santorini
Elegance, creativity and above all well executed weddings planner and organizer services are the most important factors in celebrating memorable weddings & events.
The experienced team of weddings planners and organizers offer an individualized, tailored approach to weddings in Santorini. Events reflect the individual style of each couple's picture perfect event where wedding planning services make sure that every detail that is requested becomes a reality.
Should you want to marry your loved one on the beach, a boat or overlooking Santorini's volcanic caldera, the wedding planner and organizer can cater towards the happiest and most memorable day of your life.
Enjoy An Authentic Santorini Experience
Where body meets soul
Spa & Wellness
A luxurious holistic refuge from modern day life.
About
Ifestioni Restaurant
Dining transcends the ordinary with cuisine that defies expectations.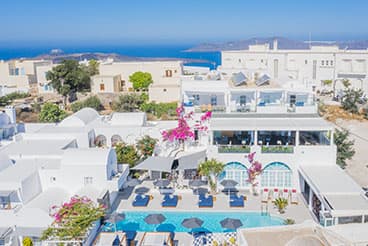 Authentic Santorini Experience
HOSPITALITY
A place where luxury and feeling at home interweave to create a new hospitality concept.